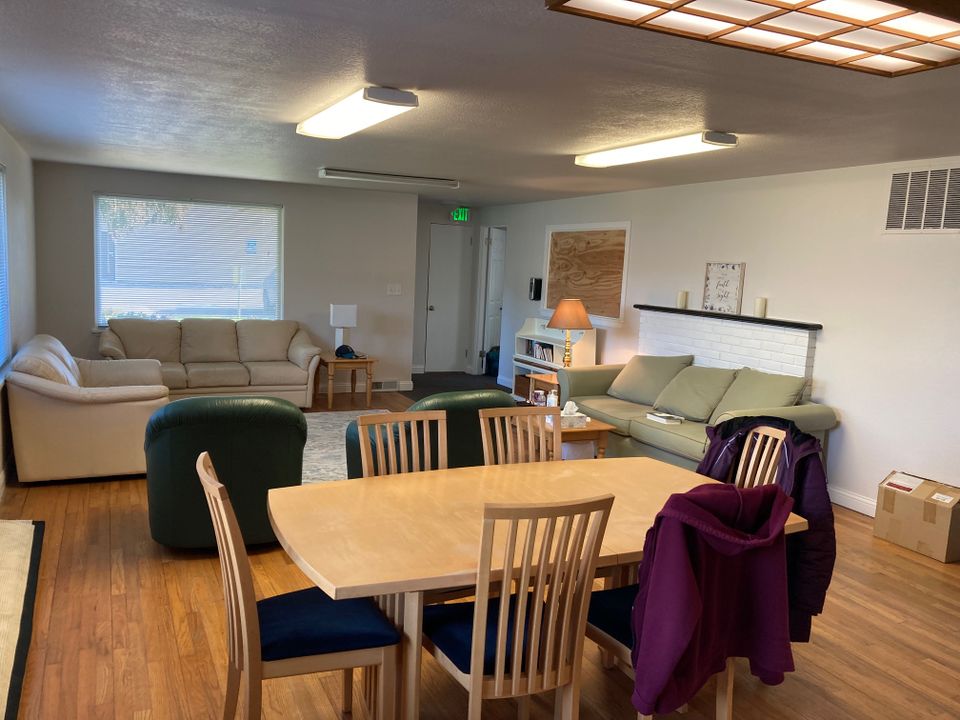 About Our Organization
What is Heather's Hope Communities?
Heather's Hope Communities is a way to get families into temporary housing.  It is a way to get families off the streets.  It is a way to help your neighbors.
Heather's Hope Communities is the brainchild of Roger Evans.  Roger knows what it is like to be without a home.  He knows what it is like to sleep on the sidewalk.  He knows what it is like to want help, but not know how to get it.  He got help and now he wants to help others who are in the same predicament he used to be in.
Heather's Hope Communities operates a home in the heart of Monroe where women who have children enrolled in the Monroe School District and are experiencing homelessness, can live. Getting these families off the streets and into stable housing, getting them connected to local housing and employment resources, and allowing them to be part of an encouraging community of others who are striving to improve their lives, we believe will equip them to move toward more permanent housing.

Heather's Hope Communities is not just a place for housing families.  The organization is designed to help people get connected to jobs and other resources so that they can get into more permanent housing.  While each person is as unique as their circumstances, many need help finding employment, connections to social services of one sort or another, and assistance finding more permanent housing for their family.  Heather's Hope Communities helps families get connected to the people and organizations who can provide these services and assistance.
Where did the name Heather's Hope Communities come from?
Heather's Hope Communities derives its name from Roger's daughter and his hope for the community.
Drug and alcohol addiction are diseases that affect more than just the individual.  They affect families and communities.  Roger's aim is to help heal communities by helping families heal.  One of the best ways to help families heal is to get them into housing.  But housing is just one step to providing hope to broken families and broken communities.  There are many other steps and connections that need to be made on the road to healing.  Roger knows that personally and he tells his story so that others can find hope for their own stories.
Roger's daughter, Heather, gave permission to use her name because she saw that Roger was making an effort to heal their relationship.  She also saw that he was and is creating a positive relationship with her daughter, his granddaughter.  And healed relationships are a big part of what Heather's Hope Communities is all about.
What is Roger's story?
I was bound to be a drug addict.  My family life was such that I was surrounded by it.  My sister is still using drugs.  I have lived on the streets and slept on sidewalks.  I worked construction and spent all my money on drugs when I got paid.  I dropped out of high school.  I lived in the Pacific Northwest from the time I was 20 until I was 40.  I was in and out of jail during that time.
When I was young, I did have enough of my life together to get married.  We had a daughter and I only drank when she was young.  But by the time she was 12 I was gone.  She didn't want anything to do with me from the time she was 17 until she was 23.  No contact at all.  I don't blame her at all.  That's what drugs do to a person.  Mess up all the best things in life.  And believe me, she is the best thing in my life.  Besides Jesus, that is.
I was working construction in Virginia when a guy got me into a faith-based recovery program.  We had a strict routine every day.  Bible study in the morning.  Devotions.  And work.  Those were the things that kept us off the drugs.  Kept us from even thinking about them.  I even got keys to the building after about 4 months because I was doing maintenance and janitorial work.  You worked for that trust and you never wanted to do anything to break that trust.
I can assure you that I'm not the same man that I used to be.  God changed my heart and everything about me.  I live to serve Jesus.  I do that by serving those people around me who live on the streets.  I help those who live like I used to live.
God knew what he was doing even if I didn't.  After I was finished with my rehab program, I came back to the Pacific Northwest, back to Monroe.  I had to thank Joe for speaking truth into my life 34 years earlier.  He planted a seed that just laid there in the dirt for 34 years.  But it sprouted and I'm all in for Jesus now.  God doesn't waste pain so I'm using my story to help those on the streets.  I've been there so I can relate to them.
I used to be one of them.  I used to be the one buying and selling drugs.  Using all my wages to get high.  Panhandling to passersby telling whatever story would get a buck or two from them.  Not for food or whatever else I told them it was for.  Just to get drugs or alcohol.
Nowadays, anybody in Monroe who is on the streets now knows Roger Evans.  Just call Roger.  And they do.  They call me any time.  Sometimes, if they want help, I do a little test.  If I meet somebody on Friday who wants my help, I tell them to call me or meet me on Monday.  If they don't call or show up, I know they weren't really looking for help.  They just wanted money for their next fix.
I once gave some shoes to a guy who said he needed shoes.  And boy did he need them.  The next day I saw somebody else with those shoes.  I knew where they came from but I asked, "Where'd you get those shoes?"  He told me he got them from the guy I gave them to and he only had to give him five bucks.  You know where that money went.
I tell that story so people can understand that even the best intentions do not always produce the desired results.  But we can make a change with the right intentions and the right direction and the right implementation.  That is what I hope Heather's Hope Communities is.  The right organization with the right direction and the right motivation.
Who supports Heather's Hope Communities?
Heather's Hope Communities is a grass roots organization.  People from all walks of life support the organization.  Housing Hope, Monroe School District, New Hope Fellowship and other churches in Monroe all have a hand in Heather's Hope Communities.  And more supporters are being added all the time.
What People are Saying About Us

 
★★★★★
"I've had the honor and pleasure of volunteering at several of their events. The entire organization consists of honest, caring and sincere individuals who are looking to make a positive impact."

- Neal M.
★★★★★
"I just wanted to say thank you for all of your help and support. Your organization has been a blessing to my family and the community we live in."

- Samantha P.